Tuesday is now the day for Tuesday Tales - a story your child created and told you, told to the internets at large.
I'm very much enjoying the stories that Jellybean is creating at the moment and thought I'd share - and it made me curious about hearing the stories other people's children are coming up with too!
So here, for your reading delight, is Jellybean's first story.
The Jungle
Once upon a time, there was a jungle, but there were no animals in it.
The animals were wild, and they were wild animals.
One day the animals went and went and went and went, until they made a car.
And then they drove all the way back to the jungle.
And that is the end.
Now I don't know about you, but I thought it was enchanting.
Why not post your own child's story, take the badge below, and link up to share? I'd love to see it.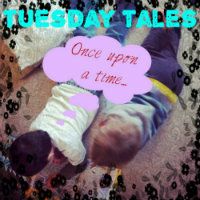 Tell me your tales
and link to share